Your revenue and bottom line will grow when you inspire fan loyalty. Research proves that fans who have a better experience comeback for more. But how do you lead your workspace to create those compelling experiences?
That's where Ruby Newell-Legner, fan experience expert, can help. Her 7 Star Service approach to turning customers into loyal fans will inspire and educate your employees, focus your leadership team, and transform the culture of your organization. Whether you're trying to increase ticket sales, retain your existing season ticket holders, attract new audiences, or train event staff, Ruby's guidance and tools will help you meet new challenges.
Engage fans by turning transactions into experiences
Encourage customer loyalty by rewarding it
Discover the truth about what motivates your fans
Attract and retain quality employees by enhancing your workplace culture
Earn a greater return on investment in employee recruitment and training
Develop leaders with a service mindset to deliver more consistent service
Break down barriers between departments, staff, volunteers, and contracted partners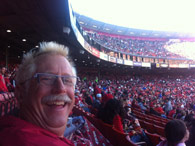 Discover how 7 Star Service
can get your fans off their couches and into your sports, leisure, or entertainment venue!