We are happy to provide invoices for purchase orders. Please contact our office at 303-933-9291.
Product Categories
DVD | Books | eBooks | Handbook | Workbook | Webinars – Powerful Presentation Skills | Webinars – Employee/Supervisor Training
DVD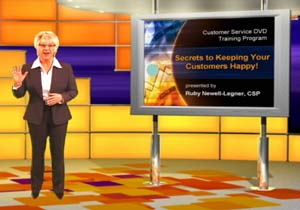 Secrets to Keeping Our Customers Happy! A Customer Service DVD Training System
"Master THE World's Most Valuable Skill, Pump Up Your Staff, and Put Your Business On The Map…!"
This power-packed training program has already helped thousands increase their revenues and tighten up their customer service skills in a live event format. We took the raw materials from Ruby's intense hands-on training, and tirelessly edited them into the equivalent of a college crash course with practical application, ready for immediate implementation!
The full training program includes the following materials:
5 educational DVD modules (which includes one bonus DVD on Seven Star Customer Service) that will play on a DVD player or on your computer
PDF copies of the follow-along handouts for each session so you can prepare copies for participants
A Leader's Guide so you will have specific instructions for using the program
Checklists that offer insight on how to set the training up for maximum learning experience for the participants
Follow-up articles that you can include in staff newsletters to help keep the information in the forefront of your employees' minds
| | | |
| --- | --- | --- |
| Pricing for full set of 5 modules | $1997.00 | Buy Now |
| Pricing for Non-Profits* for full set of 5 modules | $1497.00 | Buy Now |
*A nonprofit organization is a legally constituted organization whose primary objective is to support or to actively engage in activities of public or private interest without any commercial or monetary profit purposes.
Books
eBooks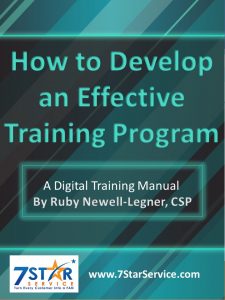 Handbook
Workbook
Webinars – Powerful Presentation Skills
Webinars – Employee/Supervisor Training