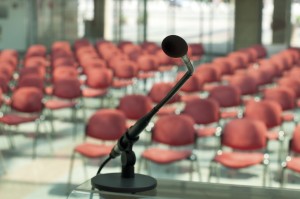 Dry mouth, queasy stomach, shortness of breath, shaking hands. Sound familiar? It might, especially if you dread speaking in front of a group. After all, comedian Jerry Seinfeld once joked that most people at a funeral would rather be in the casket than delivering the eulogy.
I've presented more than 1,700 programs, and I still get nervous. But I've also learned to control my nerves, and so can you. Here's how:
1. Think small. Instead of concentrating on delivering a speech, pretend you're having a conversation with one person. If it helps, imagine telling your best friend what you came to tell the audience.
2. Dress professionally. Choose your attire so you're dressed slightly better than your audience will be dressed. If you overdress, you lose rapport with the audience.
3. Use confident posture and mannerisms. Stand tall and use hand gestures — not gigantic ones that take away from your message, but ones that complement your delivery. There's a reason why television news reporters keep their hands out of their pockets.
4. Be yourself. Congruency is the hallmark of a great speaker. Speakers can't preach wisdom they aren't living themselves.
5. Use a formula for your talk. Focus on three to five points and then enhance them with stories, statistics and examples. Or use the "past, present, future" approach throughout to identify where you have been, where you are and where you are going with this specific presentation.
6. Open it up for questions early. Doing so at the three-quarters point will allow you to control the ending of your presentation. There is nothing worse than having some naysayer offer his two cents and then send the audience going home remembering what he said — rather than what you said.
7. Focus on the first and final 30 seconds. Collectively, those are the most important 60 seconds of your presentation. Memorize those lines and practice them, so you can say them even when you're nervous. That way, you'll own the stage before you start, and you'll end with the point you want your audience to most remember.
8. Air is your friend. It took me two years to learn how to breathe properly onstage. You need air to process thoughts effectively, so take it in and let it help you think better and more clearly. It's OK to pause and take a breath. The audience wants to hear your message, so make sure you have enough air to share that message.
9. Be careful being funny. I have seen many speakers fall on their collective faces by starting with an inappropriate joke. You want your audience to respect you from the start.
10. Be prepared. This seems obvious, yet you'd be surprised by how many speakers wing it. The amount of time and effort you invest in preparing your presentation will do two things:
a) Give you the experience to home in on exactly what you want to say and give you plenty of time to practice saying it.
b) Help you gain the confidence to present a polished presentation.
The confidence to speak in front of a group is one of the greatest assets to an individual's professional growth. Is your fear of speaking holding you back from a promotion or a new career opportunity?
(Photo by iStock)