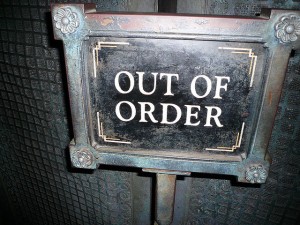 Not long ago at the Denver International Airport, I noticed a number of departure monitors with signs that read Please Pardon Our Dust. The video monitor displays were all blank, and it appeared as if airport officials were replacing the units. "How sad," I thought: They missed an opportunity to celebrate the upgrade by posting signs that would get travelers excited about the changes to come. Something like Look for our new and improved departure monitors soon!
Moments later, I saw another sign posted on a stall door inside a women's restroom that read Closed for Repairs. We apologize for any inconvenience.
If it's broken, I really don't want to use it, but how about a positive message instead? For your convenience, please choose a stall that is working. This one will be repaired soon.
On the other hand, kudos to the British Interactive Group for posting this sign while workers were repairing an exhibit in the UK: This exhibit has been so popular that it needs some attention. Please come back to see it in full action soon.
Very nice.
If you are repairing or upgrading something in your operation based on a suggestion from a customer, let patrons know you are listening by posting signs that read Based on your recommendations, we are making improvements. Thanks for the suggestions. Keep 'em coming!
During a national holiday closure, do you post signs apologizing for being closed? If you do, consider acknowledging your dedicated staff instead by saying Our facility will be closed on Labor Day. Please join our hard-working employees who will be celebrating the holiday with their families.
Before and after a two-week maintenance shutdown of the rec center I used to manage, we posted all the scheduled projects so patrons knew what was planned and what was already accomplished. This helped the public be more supportive of the closures by seeing their tax dollars at work.
Are your signs apologetic and phony? Or do they leave patrons with a positive impression?
(Photo by Michael Gray via Flickr)