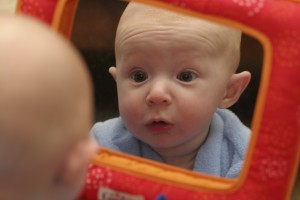 Would you work for you? That is the question successful supervisors tell me they frequently ask their staffs. They say that question helps employees look inward and perform a self-evaluation.
With that in mind, I decided to offer some thoughts on how you can arrive at your next performance review fully prepared for anything.
Compile a List of Your Accomplishments
Think about what your boss' pet projects are and review the overall mission of your organization. What have you done to support those endeavors? 
By quantifying your achievements with numbers and facts, your contributions become more measurable and will have a favorable effect on your review.
Reflect on Your Past Reviews
Focus on areas that were outlined for improvement, and be prepared to povide specific details on how you have made strides. Listening to feedback and taking steps to work on improving your skills show that you are eager to improve.
Take an Honest Look at Your Weaknesses
Are you late to meetings? Do you have sloppy work habits that impact your professional image? Do your teammates think you're difficult to work with? Are you solution-oriented? Or do you complain about problems? Whatever the issues may be, I encourage you to reflect on the big picture and how your work life would change if you improved in those particular areas.
Make a List of Skills to Improve
I know you might be thinking that such a list will only give fuel to your boss. But in reality, people who acknowledge their own weaknesses possess a strong sense of self. After all, nobody is flawless, right? By sharing those limitations, you will take the first 
step toward improvement.
Develop an Action Plan
When you get done with your list, decide how you plan to improve those skills. Are you going to take a class? Will you need support along the way? The more details you think through before going into your review session, the better. If you want additional training, find out the details about a specific class or program and take that information with you to the meeting. A supportive boss will welcome and celebrate your initiative.
Set Goals
Include goals for the coming year in your action plan. They should reflect your current accomplishments, as well as things you want to work on. Be honest and tactful.
Express Thanks
As employees, we all have felt slighted in our jobs at one time or another. Saying "thanks for what you do" will go a long with your supervisor — and might even move him or her to thank you more often, too.
Once the discussion begins, be a good listener and accept criticism gracefully. Being defensive will only reflect poorly on your professional image.
In his book Winning With People: Discover the People Principles That Work For You Every Time, John C. Maxwell contends that people who are unaware of who they are and what they do often damage relationships with others. He explains that the way to improve is by looking in the mirror. He uses critic Samuel Johnson's words to make his point about self-analysis: "He who has so little knowledge of human nature as to seek happiness by changing anything but his own disposition will waste his life in fruitless efforts and multiply the grief which he proposes to remove."
The successful leaders I work with truly have a healthy sense of themselves and know there is plenty of room for self-growth. Are you the employee that you would like working for you?
(Image by iStock)