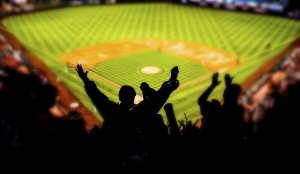 My husband and I chose our bank based on a friend's recommendation. We've kept our business at that bank ­— a small institution that's big on providing value — for more than 10 years, because of the exceptional customer service there. In fact, Front Range Bank in Littleton, Colo., represents the perfect example of what customer service should be in any business.
Here are six ways Front Range Bank creates a powerful team that turns customers into full-fledged fans:
1. The right people are hired to work with the public. In any service industry, the people make the business. At Front Range Bank, employees are hired for their "people skills" — and it shows.
2. Staff members like their job. You can tell, because you never see or hear them complaining when you walk up to the counter. They smile and are in a good mood.
3. Everyone knows his or her role. Employees at the bank realize they are part of the bank's "service cycle." If my husband walks to the bank with our dog, no matter who waits on him, they all offer a friendly greeting as he enters, and there is usually a treat for Kona, our chocolate lab. 

4. Employees consider the long-term value of each customer. In other words, they don't treat each transaction as an opportunity to make money. A few years ago, one of my clients accidentally wrote a check on a closed account, and because that check came back with insufficient funds, a number of payments I made on my account were going to bounce. Instead of charging me $20 for each of the eight checks, I received a friendly phone call from one of the clerks at the bank who noticed the problem. We immediately moved some money from another account to cover the checks, and I didn't have to pay the service charge. Now that is personalized and caring service.
5. Staff members make every customer feel special. They treat everyone like individuals rather than just another financial client. When I stopped at the drive-up window the other day, Travis greeted me with a nice "Hello, Ruby" because he recognized the car. And before he returned the tube to me, he asked if he could include a treat for Kona.
6. Staff training sessions teach skills development. Each person at the bank is well trained and abides by "the 10-5 rule": They acknowledge a customer by the time that customer is within 10 feet of them, and within five feet, the employees stop their conversation and give their undivided attention to the customer.
If I were to ask your customers to rate each of the above six characteristics based on their impressions of your organization, how would you do? 
Evaluate your operation to determine if you and your staff are accomplishing everything you can to instill customer loyalty and create lifelong fans.
(Photo by iStock)