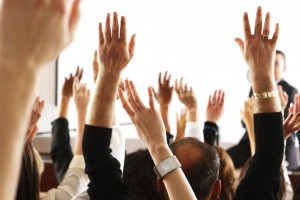 A mere 30 seconds prior to a training session I was giving in Colorado, six people stumbled in looking like prisoners on a chain gang. They were followed by their supervisor, who introduced me: "You guys are so terrible at customer service that we had to fly this lady in specifically to try to help you. So sit down and learn something. If you can!"
Those employees learned nothing from me that day. In fact, some of them didn't even sit down and remained standing for four hours — hands crossed over their chests, giving me angry looks. Pleasant, huh?
You can't force adults to learn something they don't want to learn. That's why one of the most important components of a successful training program is to make sure people are willing participants.
I gave the exact same training program for another company a few days later. The supervisor there was completely different. Everyone arrived excited, and during the training, the supervisor would politely interject to point out employees who were particularly talented in a given skills area we were discussing. This made those staff members (who were all sitting down, by the way) feel wonderful. During breaks, the supervisor would ask people if the training was working for them and make sure the seminar discussions were addressing their ideas and suggestions.
Everyone had fun, they all learned a ton and I walked away with several great suggestions and stories. Why? Because that supervisor convinced his employees that attending my presentation was an opportunity and a privilege, not a punishment.
Often, the success of the training is in how you pitch it. Employees chosen to attend must first recognize the benefits and potential results before they become fully engaged and willing participants.
Are your employees excited about training, or do they consider it nothing more than an interruption of their busy schedule?
(Photo by iStock)